Party Tents Available in: Red & White, Yellow & White, and White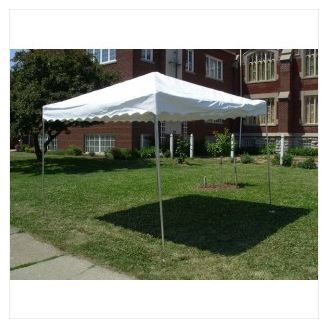 TENT CAPACITY
Deborah's Party Rentals' smallest party tents are 10 Foot Frame Tents that come in two different sizes as well as a number of different color schemes. They are ideal for festivals and carnivals. If you are not expecting a large number of people to be under the tent then the 10 foot tent might be just what you are looking for. The 10 x 10 Frame Tent can hold one table (either 6 foot round or 8 foot rectangle) and up to 8 guests. The 10 x 20 Frame Tent can hold two tables and up to 16 guests.
FREQUENT USES OF 10 FOOT TENTS
Not only do these 10 foot party tents keep your activities out of the elements, including the sun, but they are perfect for creating a festive atmosphere. These tents are just the ticket for housing games, food and beverage, and other activities. They are also a great size for intimate gatherings such as birthday parties or other celebrations.
FRAME TENT ADVANTAGES
Frame tents can be erected almost anywhere, and with the smaller footprint of the 10 foot tents this is even more true. In contrast, pole tents require tent poles and stakes to remain erect and generally need to be placed in grassy areas where the stakes can be driven into the ground. Therefore, if you want to have your tent setting on harder surfaces like asphalt or concrete then the frame tent is right for you. Instead of stakes these frame tents are anchored with sandbags or concrete blocks. This protects your frame tent from blowing away in high winds.
Notice that most of our 10 Foot Tents come with a high peak. One of the nice things about the high peak frame tents is that you get the more elegant look of a pole tent with the convenience of the frame tent.
 Don't forget we also have tent accessories like pipe and drape as well as a variety of other party rental items. Call us at (205)631-2670 | 1-800-651-2670,or  visit our Facebook page. If you are looking for a different sized tent then return to our main Tents and Accessories page.