Wedding Tents Available in White and Red & White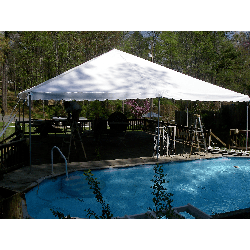 CAPACITY
Our wedding tents are the perfect setting for any big gathering like a wedding, family reunion, or a corporate party? If you need to accommodate lots of guests then these 30 foot frame tents are just the ticket. Our 30 foot tents come in 30 x 30, 30 x 40, 30 x 50, and 30 x 60. You can fit 9 tables (either 60 inch round tables or 8 feet rectangle) and up to 72 guests under the 30 x 30 size tents, and up to 18 tables and 144 guests in the 30 x 60. These are the biggest traditional frame tents you can get before you have to move to a pole tent. So, what does that mean to you?
VERSATILITY
Pole tents are held up by poles and require long metal stakes to be driven in the ground. This means you can't put them up on solid surfaces like asphalt pavement or concrete; they've got to go in the grass or other softer surface. The beauty of the frame tent is it can be put up in the grass, on concrete, or a paved surface because they don't require stakes. These tents are held in place by concrete blocks or water barrels to prevent the wind from wrecking your party. Therefore, the frame tent is a lot more versatile than a pole tent.
ACCESSORIZING WEDDING TENTS
Deborah's Party Rentals 30 foot wedding tents can be accessorized with leg drapes, tent doors, and tent sidewalls in a variety of configurations for an additional charge. We'll help you find the right tent to meet your needs. Additionally, we provide expert service to set up and to take down your tent.  
Plan your event with one stop shopping  at Deborah's Party Rental. In addition to wedding tents we also carry Tables & Chairs, as well as a variety of Tent Accessories. Call us at (205)631-2670 | 1-800-651-2670,or  visit our Facebook page. We'd love to help you find the right tent and other party rental supplies for your event. If you are looking for a different sized tent then return to our main Tents and Accessories page.