We love love love a good party theme! We know that certain cartoon characters and tv shows or movies are incredibly popular themes, especially for kids' birthdays. But what if you're planning a party (whether for a birthday, wedding shower, baby shower, wedding reception, or a business event), and really want the focus to be on the colors you're using, rather than the characters?
Well, we have a few ideas, and as always, we're ready to help! 🙂
Over the next few weeks, we're going to feature color-inspired party ideas. You can incorporate these ideas into any party theme. Say you're planning a Firefighter, Elmo, Mickey, or Superman birthday….or a wedding reception for a bride who loves roses…or a backyard tailgate to kick off the season for your favorite high school or college team and red is one of the school colors….or a Red Carpet party to gather with friends while watching the premiere of your favorite show's new season…or a Christmas, Valentine's, or any Patriotic holiday party…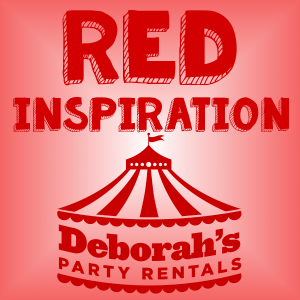 We have a Pinterest Board that's growing with more and more COLOR inspired party ideas (
check it out here!
), but today we're going to take a look at some of our favorites for
RED
! 😀
Aren't these yarn wrapped candles so sweet? The same concept could be applied to jars at a candy bar or even around pitchers at a drink table.
Watermelon "popsciples" …really, watermelon anything sounds delicious!
They also make us think of summer, so if you're having a summer party, it's the perfect snack.
If you're planning a party during a rainy season like we're having right now in Alabama, you might want watermelon just to feel like summer is coming back at some point ha! (PS the link at 36th Avenue has several fun snacks featuring watermelon!)
What a fun way to use balloons! This party used balloons to showcase pictures from the first year of the birthday boy, but they would be great at an anniversary party or engagement party too!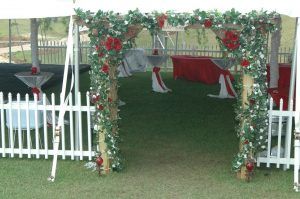 Your Alabama Wedding
We love this trellis covered in fragrant red roses! If you're thinking of having an Alice in Wonderland party (or Alice in ONEderland for a first birthday), wouldn't this be the perfect touch to the party area?
Red Carpet Party? You'll need these Stanchions lining your walkway to the front door to set the tone for your elegant event!
And of course, if you need a tent to coordinate with any red event, we have any size you may need!