Sunshine
Rubber Ducks
Lemonade & Lemons
Popcorn
Yellow Brick Road
Construction Trucks
Honeybees
Sunflowers
Emoji Faces
Goldfish
 The list goes on and on!
How DELICIOUS do those chocolate covered Batman cookies look? Mouthwatering, if you ask us! If you're planning on a Batman birthday for the Justice League fan in your house, we have a
moonwalk
that would be the perfect backyard entertainment!
The
birthday banner
really matches any color scheme with the gold letters, but it looks so good with all this yellow decor, doesn't it? To use it for an event other than a birthday, you could always just remove the extra letters and make it say, "Happy Day" :). Put some of our
yellow Dori Flags
around it and you'll have the perfect photo backdrop!
Sunflowers and Sunshine would make such a beautiful wedding, bridal shower, baby shower, first birthday, or graduation party! Sunflowers can be incorporated into centerpieces, bouquets, or as a cake topper! Snacks could include a bowl of sunflower seeds or incorporate sunflower seeds in the recipe (mmmmm…. broccoli salad anyone? or trail mix?)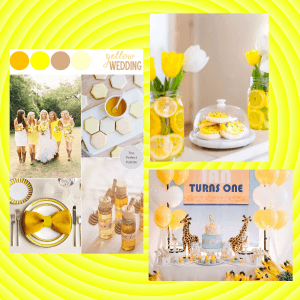 A honey-themed yellow wedding is a SWEET idea! Those simple hexagon cookie with various shades of light yellow icing perfectly resemble a honeycomb.
Giraffes would match a brown, orange, or yellow party, but this cake just perfectly matched our yellow theme and we had to include it! Those itty bitty cupcakes are adorable (and the smash cake featured on their blog is absolutely precious!)
If you're as inspired as we're feeling now to plan
yellow
 event soon, give our office a call or head over to our website to browse everything we have available to help you plan the perfect party!